An (Edward Berge) Treasure In The Garden
I was recently contracted to photograph this bronze sculpture by Edward Berge, entitled Maiden With Fawn. This sculpture had been sitting in someone's garden somewhere in Tampa for what appears to have been a considerable length of time. The prolonged exposure to the Tampa Bay's heat, humidity and rain have taken an obvious toll. Yet in spite of it's distressed condition or perhaps as a result of it she, the Maiden, has a surreal-life-like quality. This is most evident in the facial expressions and hands. (scroll down for images)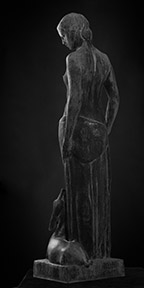 The Sculptor Edward Berge
Edward Berge (1876–1924) was a Baltimore, Maryland sculptor known for his bronze monumental works and figures. He studied at the Maryland Institute and the Rinehart School in Baltimore and the Academie Julian in Paris. Edward Berge mainly worked in marble and bronze and completed many monuments, portrait busts and relief sculptures. Many of which are on display outdoors or in public buildings in Baltimore City.
The "Maiden With Fawn"
This specific sculpture of the Maiden With Fawn, was cast in 1939 after Edward Berge's passing.  The sculptor Perna Krick's (1909-1991) name is also engraved on the base, it is thought to have been cast under her guidance. It was cast at the Roman Bronze Works foundry.
The Roman Bronze Works Foundry
The Roman Bronze Works foundry was established in New York City in 1897 by Riccardo Bertelli. It is now operated as the Roman Bronze Studios. It was the first American foundry to specialize in the lost-wax casting method and was the country's pre-eminent art foundry during the American Renaissance (ca. 1876-1917). The Maiden With Fawn was one of many sculptures of Edward Berge that were cast there.
Commercial product photography can be done at your place of business or even your home.
Session Details
This sculpture was photographed "on-location". On-location meaning being in my client's home in Clearwater, FL.
A greenscreen backdrop was used on part of the session then knocked out in post production. There was also photo documentation of the foundry stamp, the engraved copyright notice and other engraved information that were essential to verify authenticity and to determine the sculpture's net worth.
My equipment list for this session: Nikon D2x and D7100; Nikon lens 28-70 2.8, 105 DC f2, 80-200 2.8; lighting was a mix of 2 Norman strobes (1 each 200C and 400B) mixed with ambient light. The strobes were set up as bare bulb, with an umbrella or a softbox.